Whether you're celebrating Christmas, Chanukah, or another holiday, we wanna show you the top ten things under 10 bucks that we wish would be gifted into our lives this season.

1.
EOS lip balm:
It makes your lips feel super smooth and (as Wendy pointed out) it very easy to find in your purse. Nothing else in there is shaped like EOS lip balm. It comes in several different flavors including Sweet Mint and Tangerine. You can buy the singles at most Drug Stores, Ulta, and Target. They're only $3 for one for $7 for a pack of three. Lipsticks and other chapsticks are always a good buy as well. You can get
NYC'
s Hydrating Lipstick in Blossom for only $1.97 at Wal-Mart.
2. Nail Polish: Polish is universal. Girls who don't wear makeup paint their nails. (I know I'm one of those girls). There's a polish for everyone. Your nails can be super colorful with bright greens, blues, yellows, or the classic red like your mom probably wears. Creative nails are in. Buy your daughter, mother, sister, friends, and grandma some great polish. You can get the
Sinful Color
line at Target or Walgreens for only $2 a bottle! They have a great range of colors. Or if you're looking to spend a little more, try
China Glaze
or
OPI
(found at Sally Beauty Supply or Ulta). I'm crazy about their shatters/crackles and glitter polishes. You can also get some great art pens for decent prices. I found some awesome Art Deco (by LA Colors) pens at Dollar Tree!
3. Nail Polish Strips: While we're on the subject of nails. Nail strips! They come in so many different colors and patterns. There are several different brands including
Sally Hansen
,
Butter London
, and
Incoco
. I've only tried the Sally ones. They seem to be the lowest price at around $10. I had the skull and cross bones for Halloween and absolutely loved them. Be sure to put a top coat on and around them to make sure they seal on there well.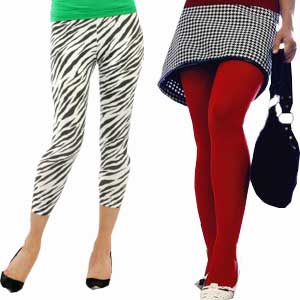 4. Tights/Leggings: This is a perfect gift for women of all ages, shapes, and sizes. It's winter, it's cold, and we all want to keep our legs warm under those cute dresses we bought for all the holiday parties. Much like polish and nail strips, they come in so many cute colors and patterns! Personally, I want some Zebra print ones in my stocking but I dont think I could pull them off. haha. Target has a wide variety for $5 each.
5. Dry Shampoo: Its the greatest thing since... uhh... regular shampoo was invented. You can get small sized ones to keep in your purse. So, when you go to the gym or are out in the summer heat, you can still look so fresh and so clean clean afterwards. I've used the
Tresemme
kind and it works well. My friend Erin suggests the
Suave
brand. It only costs about $3.
7. Lotions: What girl doesn't love lotion?
Victoria's Secret
is having a half-off sale right now. Their holiday scents Snowy Violet and Apple Blossom smell delicious. I also enjoy
Bath & Body Works'
Into the Wild. It's been my favorite since it came out. Their new scents Charmed Life and Be Enchanted are perfect too.
8. Gift Cards: They're may seem a bit last minute or thoughtless but if you get her one for a place she really enjoys then it makes a difference. Or get them a gift card for a restaurant that you both love so you two (or more) can have a girls night out. If you're shopping for me, I want Visa gift cards. haha
9. Hair treatments: No one wants frizzy gross hair during the holidays. Treat yourself or your friends to
Aussie's 3 Minute Miracle Treatment
. My friend Courtney loves this product. She also swears by John
Frieda's Frizz Ease Finishing Creme.
These two range from $3-6 at your local drug store.
10. Vitamins: Okay this is the more boring choice BUT everyone needs to take some daily vitamins. AND! They make gummy vitamins for adults now! They're even in fun fruit shapes. Although, I will miss my Disney Princess shaped vitamins, these will have to do. Stay healthy for the holidays and throughout the year with
One-A-Day Vitacraves
!